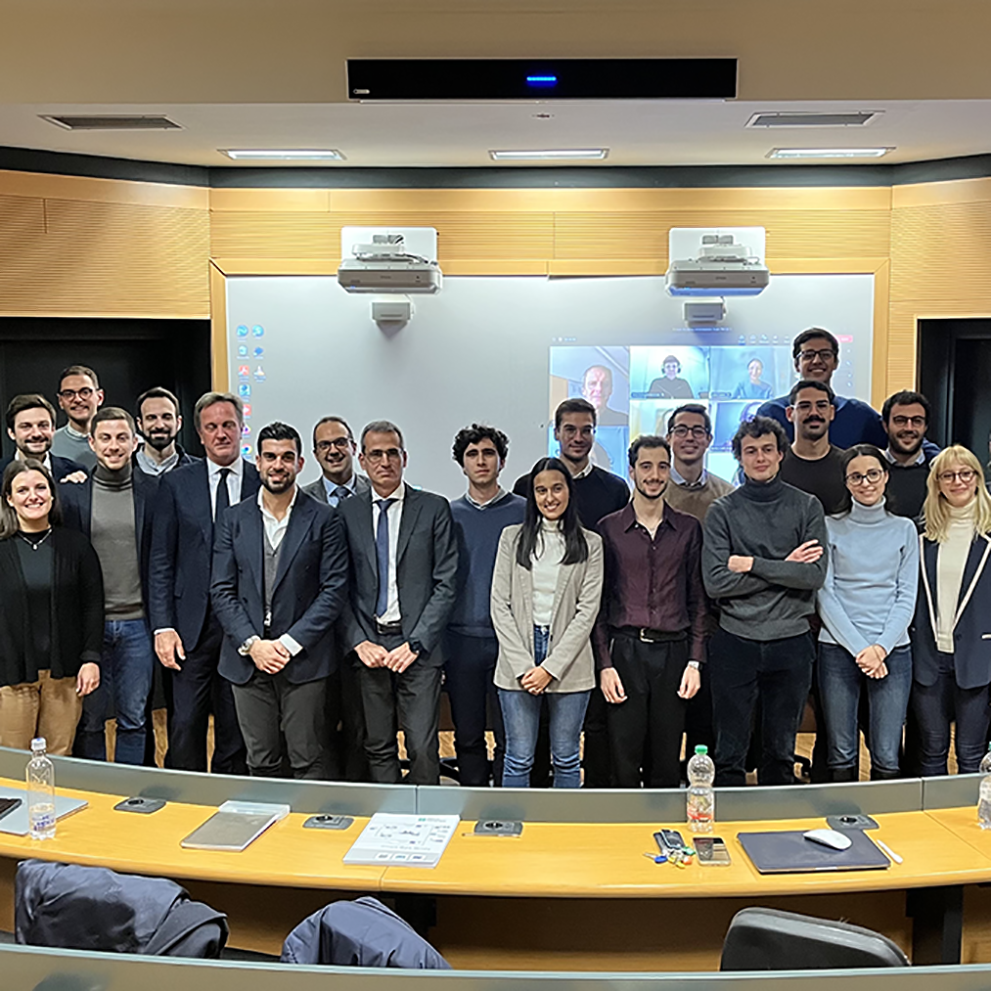 The first edition of the C-Lean Energy Academy concluded: 24 new graduates
05 December 2022 - Corporate
On the 1st of December 2022, the first edition of the C-Lean Energy Academy, the training programme created by Pietro Fiorentini in collaboration with POLIMI Graduate School of Management, officially ended.
During the Graduation Day, the 24 participants presented the project works realised together with Pietro Fiorentini tutors and POLIMI GSoM professors. In addition to renewables, specifically hydrogen, biomethane and power-to-gas, the students focused on topics related to sustainability and its integration into business processes, and to the principles of Lean Management applied in cases of start-up acquisition.
Our congratulations to the graduates:
• Andrea Rigon
• Valentina Gattolin
• Michael Lucchi
• Matteo Massera
• Matteo Campi
• Alberto Carnevali
• Rebecca Casazza
• Luca Forlani
• Tommaso Pernatsch
• Sara Scolari
• Sara Visona
• Antonio Guarino
• Carolina Balducci
• Corrado Maria Caminiti
• Agostino Chiesa
• Daniele Dalla Vecchia
• Manuel Rigodanza
• Mattia Nannetti
• Veronica Pati
• Beatrice Dallù
• Dario Pagani
• Irene Fantini
• Ilaria Lancini
• Sara Cavagnini
Next year it will be the turn of the students of the second edition of the C-Lean Energy Academy. In February, they will attend their third and final week of lessons to explore topics such as Lean and Agile Management, innovation, teamwork and corporate and personal wellbeing. Then they will elaborate their project works to conclude the training course.
The C-Lean Energy Academy is one of the projects created with a view to Corporate Social Responsibility by Pietro Fiorentini. Colleagues from all companies of the Pietro Fiorentini Group, professors from POLIMI GSoM and numerous external guests are collaborating in its success. We would like to thank all of them, especially the tutors who followed the students throughout the Academy: POLIMI GSoM professors Davide Chiaroni (Scientific Director of the course), Andrea di Lieto, Simone Franzò Alessio Nasca and Federico Della Bella, and our colleagues Massimo Mastromatteo, Nicola Bruni Zani, Stefano Lillia, Luca Marcovati, Davide Perotto, Giulia Punturieri and Stefano Chiurco.
Focus on: POLIMI Graduate School of Management

POLIMI Graduate School of Management creates meaningful paths for future business leaders and the businesses they will lead, guided by the over-arching belief that it has a crucial role to play in shaping a better world for all. Based in Milan, Italy's main business centre, the school was created over 40 years ago as MIP Politecnico di Milano and today it is a not-for-profit Consortia Limited Company composed of the University and a group of leading Italian and multinational companies.
It offers more than 40 masters degrees, including MBA and EMBA, and a catalogue of over 200 open programmes, along with customised training for companies. It continues to innovate and its digital learning systems allow it to seamlessly integrate personalized and continuous learning experiences into its programmes and have placed it amongst the top-ranked Online MBA rankings globally. As part of the School of Management of Politecnico di Milano, it is among the few "Triple Crown" accredited schools across the world.
With over 15,000 alumni and 3,000 students every year it is an innovative and entrepreneurial community made up of diverse people and partners. It sees the power of relationships as a constant source of enrichment, innovation and inspiration, personal and professional.
POLIMI Graduate School of Management takes sustainability seriously and continues to work towards a better, more conscious, more equitable and more inclusive future. In 2020 it was the first European Business School to become a B Corp certified business. www.gsom.polimi.it/en/