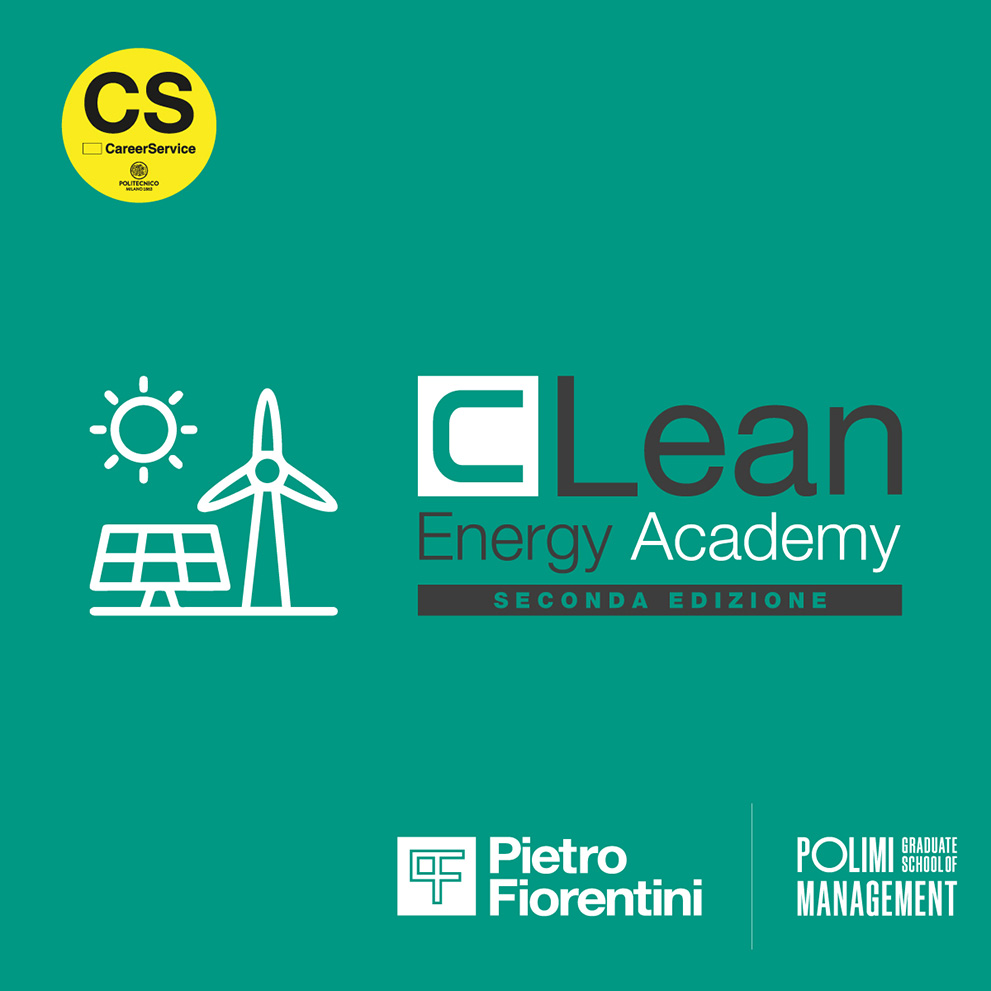 The second edition of C-Lean Energy Academy is coming soon
25 May 2022 - ESG
C-Lean Energy Academy, the training programme created by Pietro Fiorentini in collaboration with POLIMI Graduate School of Management, the management training school of Politecnico di Milano, is back. A ten-month course to explore topics such as energy transition and opportunities arising from renewables and digitalisation and acquire Lean & Agile Management skills.
Between September 2022 and May 2023, twenty-five students from engineering and design degree courses will attend three weeks of lectures at the Bovisa Campus, home of the POLIMI Graduate School of Management, with university lecturers and Pietro Fiorentini's business experts. The programme also includes company visits, laboratory work, networking activities and a virtual community to share ideas and thoughts regarding the energy future. At the end of C-Lean Energy Academy, the participants will elaborate and discuss their project works to receive a certificate of participation.
More details on the programme and criteria selection will be explained during the two presentation events.
Please visit the dedicated page on the POLIMI Graduate School of Management website: www.gsom.polimi.it/course/c-lean-energy-academy.
With initiatives like C-Lean Energy Academy, Pietro Fiorentini Group aims to create value for the benefit of the communities in which it operates. Thanks to this course, the future generation will be able to develop professional skills that will be fundamental in a world that is increasingly investing in the energy transition and the creation of more sustainable organisational models.
Focus on: POLIMI Graduate School of Management
POLIMI Graduate School of Management creates meaningful paths for future business leaders and the businesses they will lead, guided by the over-arching belief that it has a crucial role to play in shaping a better world for all. Based in Milan, Italy's main business centre, the school was created over 40 years ago as MIP Politecnico di Milano and today it is a not-for-profit Consortia Limited Company composed of the University and a group of leading Italian and multinational companies.
It offers more than 40 masters degrees, including MBA and EMBA, and a catalogue of over 200 open programmes, along with customised training for companies. It continues to innovate and its digital learning systems allow it to seamlessly integrate personalised and continuous learning experiences into its programmes and have placed it amongst the top-ranked Online MBA rankings globally. As part of the School of Management of Politecnico di Milano, it is among the few "Triple Crown" accredited schools across the world.
With over 15,000 alumni and 3,000 students every year it is an innovative and entrepreneurial community made up of diverse people and partners. It sees the power of relationships as a constant source of enrichment, innovation and inspiration, personal and professional.
POLIMI Graduate School of Management takes sustainability seriously and continues to work towards a better, more conscious, more equitable and more inclusive future. In 2020 it was the first European Business School to become a B Corp certified business. www.gsom.polimi.it/en/