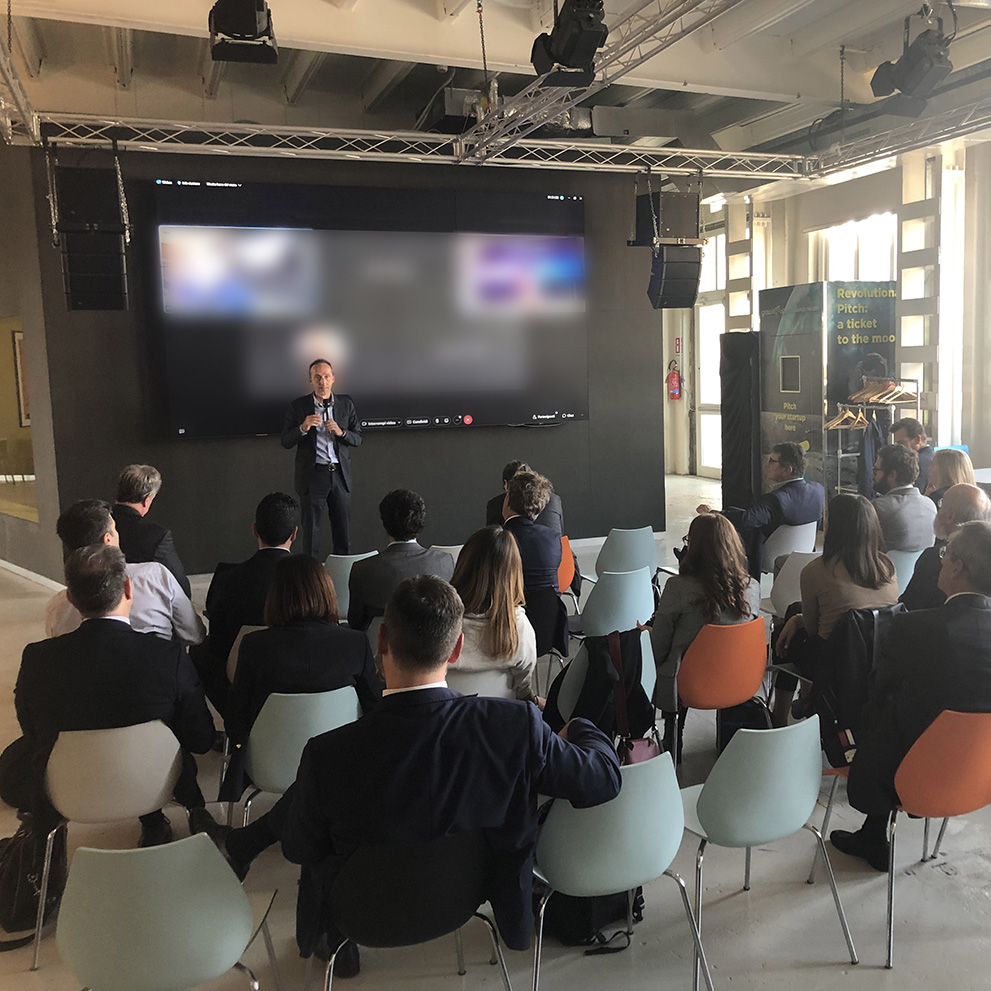 Sustainable Energy Venture: the three winning startups
12 October 2022 - ESG
Sustainable Energy Venture, the call for national and international startups and SMEs launched by the Pietro Fiorentini Group and Intesa Sanpaolo Innovation Center to identify and support the best technologies for the development of the hydrogen supply chain and the reduction of CO2 emissions, has come to an end.
On the 11th of October 2022 at Spazio Base, a creative hub and research centre located in Milan, the six finalists presented their technological innovations to the board and management of the Pietro Fiorentini Group and the Intesa Sanpaolo Innovation Center. The final arena was won by three companies that worked on solutions aimed at an increasingly efficient and sustainable use of the resources available today, using high-performance technologies for the transformation of carbon dioxide into new energy vectors, the purification and compression of hydrogen, and the measurement of hydrogen in its production and gas networks.
Pietro Fiorentini will reserve to the winners an acceleration programme, in which commercial partnerships or direct investment modalities will be evaluated. The Company aimes to draw on the know-how accumulated in more than 80 years of experience across the entire natural gas supply chain, and on the skills gained in the field of Lean & Agile Management to accelerate their projects. Thanks to this exclusive path, the selected startups will be able to further develop their technological innovation projects, thus significantly contributing to the decarbonisation targets promoted by the EU.
Cristiano Nardi, Executive Chairman of the Pietro Fiorentini Group, commented: "The context of the energy transition offers many opportunities and, at the same time, generates great challenges. We are looking for the most suitable partners to meet these challenges, and this call has led us to discover realities and technologies with significant potential. We aim to be a capital provider and the industrial partner that will enable these extraordinary ideas to materialise through the consolidation of the technology and the subsequent industrialisation of the solutions."
Focus on: Intesa Sanpaolo Innovation Center

Intesa Sanpaolo Innovation Center is the company of Intesa Sanpaolo Group dedicated to innovation: it explores the world of cutting-edge innovation, invests in applied research projects and high-potential startups and accelerates the implementation of the circular economy criteria, to make Intesa Sanpaolo the driving force behind a new economy that is socially and environmentally aware. Based in the Turin skyscraper designed by Renzo Piano, with its national and international network of hubs and laboratories, the Innovation Center is an enabler of relations with other stakeholders of the innovation ecosystem – such as tech companies, startups, incubators, research centers and universities – and a promoter of new forms of entrepreneurship in accessing venture capital. Intesa Sanpaolo Innovation Center focuses mainly on circular economy, development of the most promising startups, venture capital investments of the management company Neva SGR and applied research.