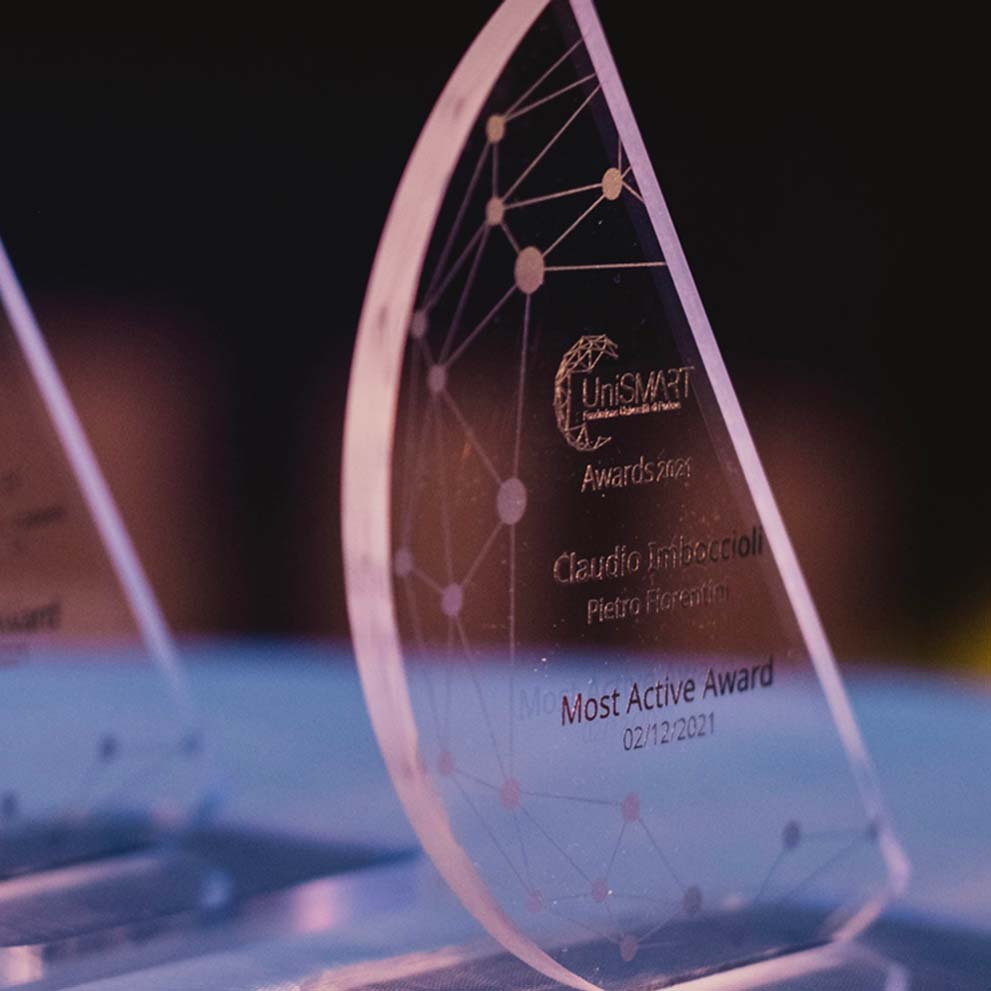 Our sixth year of partnership with UniSMART
09 February 2022 - Corporate
For the sixth consecutive year Pietro Fiorentini has confirmed its partnership with UniSMART, the foundation of the University of Padua deputed to technology transfer and postgraduate education through masters and learning courses, research projects, innovation consulting activities, European projects and the valorisation of the intellectual property developed by the University.
On the 2nd of December 2021, at the annual partners' meeting, the Company was awarded by Daniela Mapelli, Rector of the University of Padua and President of the Foundation, for the trust and proactivity shown by following up several initiatives that have contributed to the growth of UniSMART.
"The UniSMART community – said Fabio Poles, General Manager of the UniSMART Foundation – is the innovation ecosystem of the University of Padua. Here private and public bodies dialogue with each other and with the University, and through this exchange they grow and generate value. Pietro Fiorentini is a long-standing participant in our community that placed its trust by activating many projects and paths of innovation with concrete results."
Among the various activities: more than forty meetings with professors and researchers on topics of technological interest, twelve research projects followed by three doctorates, the participation of our experts in hydrogen-themed webinars, and the training courses organised both for our colleagues and university students.
"The collaboration with UniSMART – stated Claudio Imboccioli, Director of Research and Development at Pietro Fiorentini – has enabled us to carry out in-depth research on relevant topics related to the energy transition. Regarding hydrogen, the minds of the University, combined with the resources and the pragmatic approach of our Company, has led to the improvement of some solutions designed to integrate today's distribution infrastructures in the hydrogen supply chain."
To mention one example: the collaboration with Nanomaterials Engineering Group, a research team coordinated by Alessandro Martucci, professor of Materials Science and Technology at the University of Padua. The project was aimed at developing devices for distribution networks compatible with energy from renewable sources. It also included a Ph.D. funding from the Company that led to the creation of the first working prototypes and several scientific publications on the science and engineering of materials and nanostructures. The researcher is now a member of Pietro Fiorentini's R&D team.
Collaboration and exchange of knowledge, constant dialogue and mutual enrichment. The combined commitment between industry and academia promotes new research and projects for technological development, from which the entire community can only benefit.