We are what we believe in
Every day, we are faced with choices that have the power to affect the future of our Company and the people who work with us. The thoughts and ideas that inspire us guide us in these decisions, which are embodied in the values and principles on which our corporate culture is based.
Our values encapsulate what we believe to be important as a Company and play a key role in establishing the conditions for working collaboratively, both in-house and with our partners. The principles that are linked to them, on the other hand, are what convey to us the indications to respect in order to put them into action every day.
The values and principles of Pietro Fiorentini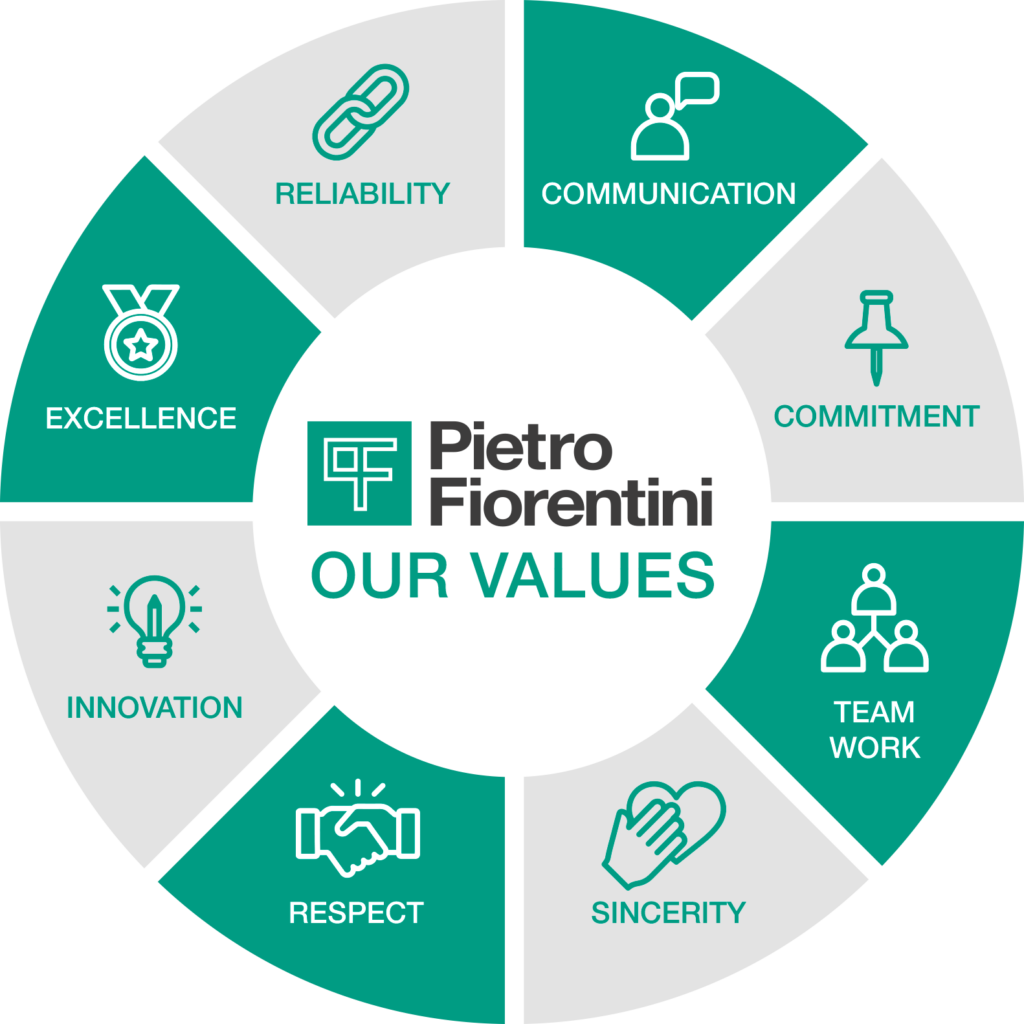 Reliability
We always deliver our commitments on time and successfully meet expectations to generate trust.
Communication
We ensure that strategies, programs, objectives and information are conveyed in a transparent, clear and comprehensible manner, taking care to understand the listener's perspective.
Excellence
We set ourselves ambitious goals so we are constantly improving, identifying the value stream and organising our resources in order to reduce waste that would hinder development.
Commitment
We work resolutely to analyse problems, propose solutions and implement tasks, making the most of every opportunity.
Innovation
We pursue constant evolution by encouraging research into new solutions, without settling for the easiest route.
Teamwork
We involve and motivate our colleagues and employees, enhancing their ideas, skills and competencies with the aim of constant improvement in terms of performance and results.
Respect
We accept and defend the dignity of people and their work, regardless of their gender, race or origins, and strive to draw added value from diversity.
Sincerity
We demonstrate moral integrity, professional honesty and fairness in interpersonal relationships, courageously supporting ideas and opinions.
These values and principles convey the commitment Pietro Fiorentini puts into play every day concerning issues such as diversity, transparency and honesty.
An inclusive environment that promotes diversity
At Pietro Fiorentini, we believe that diversity represents an opportunity for exchange and improvement, not only for people, but also for the organisation itself. No matter their ethnicity, culture, background, gender, disability, or political, religious or sexual orientation: everyone, at any time, must be free to express themselves, with their own unique set of skills and experiences.
Promoting diversity and inclusion does not mean merely "respecting the rules", but supporting a socially and humanly sustainable growth model.

We select values
The selection and career advancement processes within Pietro Fiorentini are guided by respect, sincerity and commitment, the only and unquestionable standards for assessing the work of each of our employees.
Equal opportunities
At Pietro Fiorentini, every person is evaluated exclusively for the added value they offer. Growth opportunities are reserved for all people equally, with focused, personalised training pathways depending on requirements. Experience, skills and results are the only parameters that determine salaries.
Multiculturalism
It is the many cultures represented within the company that make Pietro Fiorentini exceptional. With over 40 locations around the world, Pietro Fiorentini's employees come from over 20 countries spread across five continents. That is why fostering sharing and collaboration between people from different backgrounds is a collective and key commitment for us.
Being part of our Company means respecting it and sharing our corporate culture. The first ambassadors of these pillars are our very employees, who every day help to build a better world for our clients and for the younger generations.