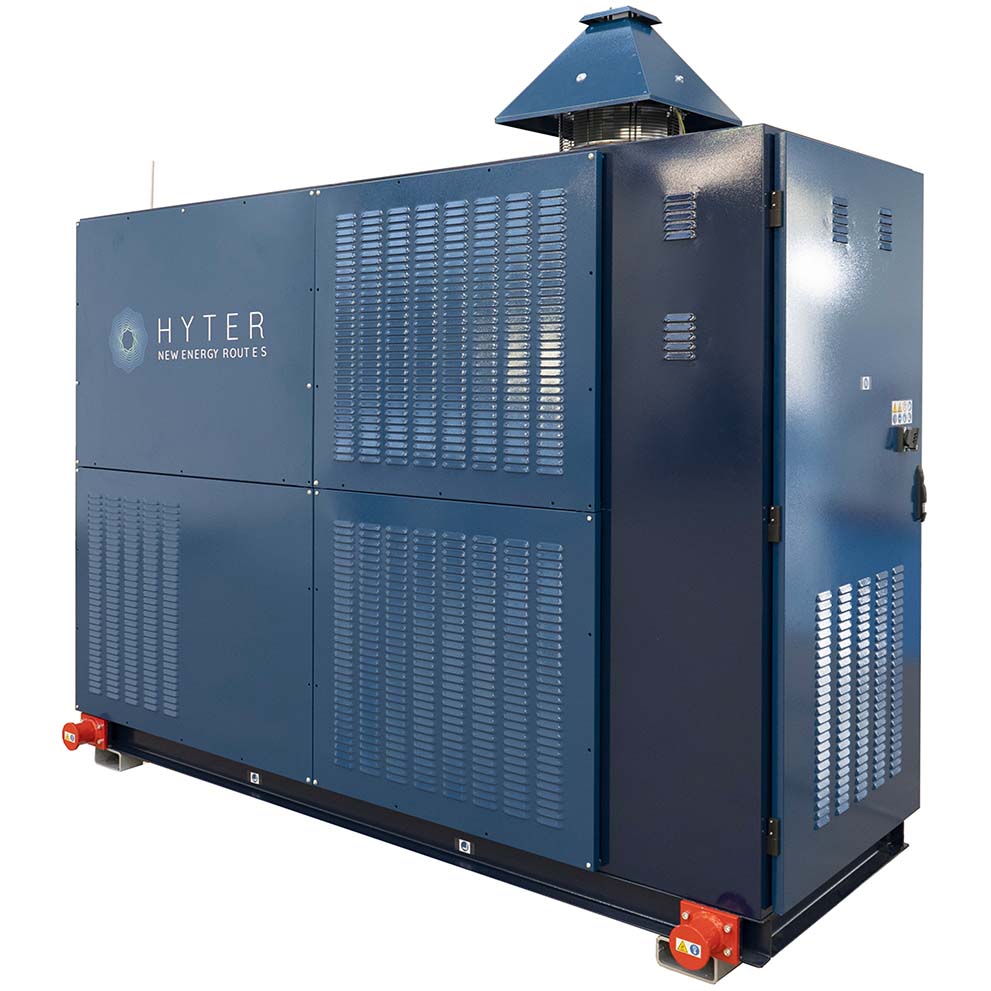 A green hydrogen plant for PLT energia thanks to the Hyter electrolyser
21 March 2022 - Solutions
With the innovative electrolyzer supplied by Hyter, a company part of the Pietro Fiorentini Group, PLT energia will be able to use green hydrogen as an energy vector to make its offices even more sustainable.
PLT energia has been presiding over the entire value chain of renewables, from the design of wind and photovoltaic plants to the direct sale of energy, for 15 years. Now, it will experience this technology for the first time to zero out the CO2 emissions of its offices and gain strategic know-how for a large-scale development.
The project is centred around the acquisition of the new plant built by Hyter: a technological jewel for the generation of green hydrogen through the electrolysis of water, using the innovative AEMWE, Anion Exchange Membrane Water Electrolyser, technology. The plant is undergoing demonstration tests at the Fire Service in Montelibretti (RM) and will be ready for delivery by the end of 2022.
The photovoltaic system operating on the buildings of PLT Energia will interface with the new Hyter electrolyser to produce the hydrogen needed to guarantee the environmental sustainability of the electrical and thermal consumption of their site in Cesena. For the technological assessments, both companies enlisted the collaboration and technical direction of the Politecnico di Milano.
The Managing Director of PLT Energia, Stefano Marulli, commented with satisfaction: "Two years ago we set up a working team in collaboration with the Polytechnic of Milan to research existing and developing technologies to be ready for opportunities related to the world of hydrogen. The team has carried out valuable study, analysis, and research work, which has resulted in the acquisition of the plant supplied by Hyter, a company in the Pietro Fiorentini Group. The project will continue in the coming months with the analysis and testing of the production process and its practical applications as an energy vector. This is the first pilot project that we hope will soon be replicated, on a large scale, on the multi-megawatt plants in operation of the PLT Energia Group."
The project highlights the role of Pietro Fiorentini Group as an accelerator for the development of innovative solutions in the field of energy transition. Through industrialisation activities performed in collaboration with Hyter, the technical solution has been consolidated and made flexible for various applications related to green hydrogen.
Sergio Trevisan, General Manager of Pietro Fiorentini Group and President of Hyter, added: "Our commitment to energy transition is growing and Hyter's technological development is an example of this. Collaborations like the one with PLT are fundamental to develop the hydrogen market, an energy carrier that will play a key role in achieving the decarbonisation targets promoted by the European Union. This project represents a fundamental step towards a future expansion of Hyter's portfolio of solutions and is part of the exploitation of the Power-to-gas potential to maximise the value of energy produced from renewable sources."