Pietro Fiorentini locations
Pietro Fiorentini has a large number of locations between Italy and abroad that include production sites, sales offices and service centers, with a distribution network that reaches more than 100 countries on all continents.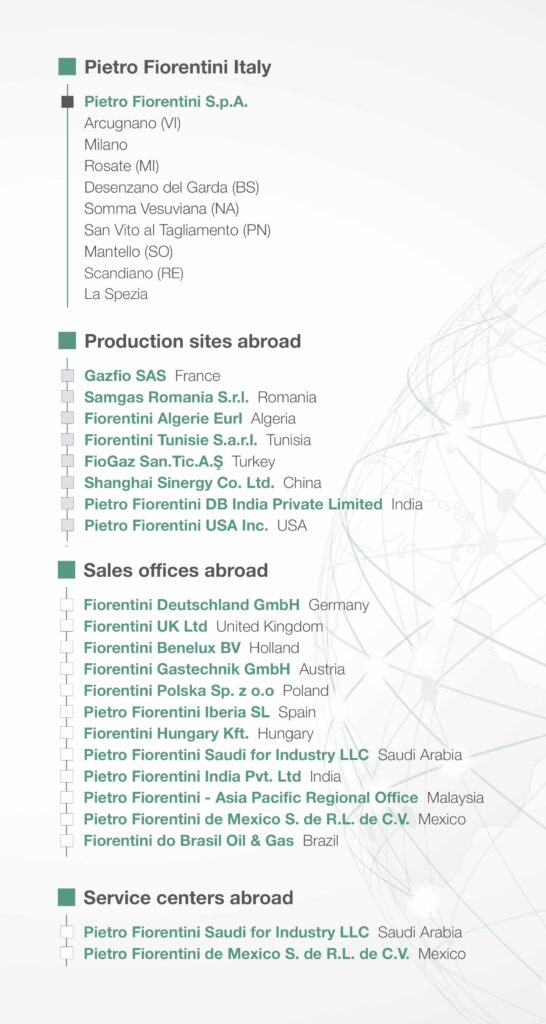 The Group subsidiaries and brands
Subsidiaries and brands complement and expand the Pietro Fiorentini Group's offerings to multiple sectors: from renewable energy to data management software, from water cycle to waste valorization. The synergy between different skills and technical knowledge allows the PF Group to develop and industrialise innovative solutions in both process and technology.
Terranova
Terranova is a leading company in the Energy & Utilities sector that develops flexible, modular and custom-designed softwares able to respond to any market need, offering comprehensive support to companies in their digitization process.

Starting from 2016, five valuable partnerships complement Terranova's offerings and enable the company to accelerate its growth and internationalisation process:
For more information: terranovasoftware.eu
Sartori Ambiente
Since 1996, Sartori Ambiente has been making advanced systems for waste separation and technologies to improve the performance of separate waste collection and the monitoring of waste deliveries.
More specifically, the company is a reference in the realization of hardware and software solutions for the digitisation of separate waste collection and a range of containers that combine loading capacity, ease of emptying, and small footprint; elements that have contributed significantly to the company's success in more than 40 countries around the world.

The Altares division, which was the first one in Italy to introduce geolocation systems for collection vehicles and emptying detection with UHF RFID technology, now boasts more than 3,400 active monitoring systems in the territory capable of processing more than 25 million readings annually, ensuring its clients full control of field operations as well as the introduction of the punctual tariff (PAYT).
For more information: www.sartori-ambiente.com
CEM Water Meters
With the acquisition of Yavuz Metal, a Turkish company that owns the CEM Water Meters brand, specialised in the production of water meters, the Group's offering has been enriched with additional solutions to complete a range that now covers the entire water supply chain and includes Pietro Fiorentini's ultrasonic smart meters, Fast's network control devices and Terranova's data management softwares.
Throughout its history and thanks to a process of continuous growth and innovation carried out by its engineers and R&D team, CEM Water Meters has become a leading company in the Turkish market that offers its customers high quality products within the water supply chain that comply with international standards.
For more information: https://cemsusayaclari.com/
ADD Synergy
ADD Synergy is the brand of the Spanish company Cryo Inox dedicated to the production of plants for liquefaction and regasification of natural gas, biomethane and CO2.

In the current geopolitical context in which energy security has become a top priority, the applications of this technology in the field of sustainable mobility and LNG (Liquefied Natural Gas) transportation through virtual pipelines are particularly relevant as an alternative mode to the methane pipeline network by which gas can be stored and brought to its destination by land or sea.
The company also provides equipment for loading LNG onto vehicles (trucks and tankers) that transport it from the liquefaction plant to its final destinations: industrial sites not connected to pipelines, regasification plants or refueling stations. In this regard, ADD Synergy builds both refueling stations for heavy vehicles (trucks, buses and special vehicles) and regasification plants, thanks to which LNG and Bio-LNG are brought back from the liquid to the gaseous state to be fed into the transportation infrastructure and reach the final consumer.
For more information: https://www.addsynergy.com/
FAST
FAST has been operating since 1982 in the field of automation and process control systems for industry and utility production, management and distribution systems, developing integrated products and solutions for the optimisation of business processes.
FAST's proposals integrate advanced hardware and software technologies, both for the industrial and civil sectors, guaranteeing complete control of production processes and internal logistics with a twofold objective: to simplify the task of operators by reducing the incidence of human error and to achieve total digitisation of plants.
FAST is an innovative reality that proposes the best solutions and always responds in a timely, flexible and precise manner to specific customer needs, thus representing a point of reference as a System Integrator in process control for numerous multi-utilities and major international players in the industrial sector.

For more information: fastonline.it
TIV Valves
TIV Valves is a company specialised in the design and production of ball valves, supporting major players in the Oil, Gas & Energy industry with technical and customised solutions for upstream, midstream, downstream, offshore, onshore and subsea, designed by a highly specialised team of managers and engineers.
Founded in 2010 in Rescaldina (MI), the company has manufactured and shipped more than 25,000 valves to five continents. TIV Valves is able to meet the most specific functional requirements, passing the most stringent tests in terms of performance, operation and resistance, combining them with the aesthetics and design typical of made in Italy products.
For more information: tiv-valves.com
MicroPyros
MicroPyros BioEnerTec is a German company active in applied biotechnology in the energy field.
Up to date, MicroPyros is one of only three companies in the world to have industrially developed the microorganisms (called Archaea) at the basis of biological methanation, which convert hydrogen and carbon dioxide into methane through a process of anaerobic metabolization, that is, in the absence of oxygen. At the same time, they also absorb carbon dioxide, a topic of great importance when thought of in terms of reducing CO2 emissions, a goal set by the European Green Deal.

For more information: micropyros.de
Hyter
Hydrogen, energy transition and cutting-edge technologies are the concepts behind Hyter, whose name comes from the union of the English word hydrogen and the Latin iter.
Electrolysers for hydrogen generation constitute Hyter's core business, which realises modular and customised projects to cover the needs of different sectors (such as industry, mobility, or isolated grid systems).
Specifically, Hyter's offer includes solutions for the generation of green hydrogen, i.e. hydrogen produced from renewable energy, through the electrolysis process of water, using an innovative process based on anion exchange membranes (AEMWE) instead of the alkaline process or proton exchange membranes. The technology used by Hyter has excellent efficiency, allows a significant reduction in investment costs and a lower environmental impact.

For more information: hyter.it
Biokomp
Biokomp, founded in 2011 in the province of Vicenza, Italy, designs complete compression & treatment systems for methane, biogas, biomethane and industrial process gases.
The offer includes a wide range of solutions that vary according to the different compression needs: from the centrifugal type for low pressure to the reciprocating type for high pressure, passing through the rotary screw solution used in Pietro Fiorentini's FioGrade plants for biogas upgrading.

Custom-designed projects for each type of application, guaranteeing optimum performance and high reliability over time and including extensive technical support from feasibility studies to final commissioning and specialised after-sales service.
For more information: bio-komp.com