The development of power-to-gas solutions is part of the process of facilitating the energy transition in which the Pietro Fiorentini Group is engaged, strengthened by its experience in the world of natural gas and as a point of reference in the field of research and development.
This innovation-oriented approach is embodied in the development of projects in Italy and Europe, with cutting-edge solutions in which Pietro Fiorentini and the other companies in the Group collaborate synergistically.
Bio FARM (Straubing)
On Thursday 28 July 2022, in the Straubing wastewater treatment plant in Germany, work began on Bio FARM, a plant for researching and experimenting with biomethanation processes from various sources, in particular biogas and synthesis gas, entirely designed and built by Pietro Fiorentini and its subsidiaries MicroPyros, Hyter and Biokomp.
The Group will thus be the main promoter of a research and experimentation system for biomethanation that is unique throughout Europe. The facility, which will be completed by spring 2023, will be dedicated to the research and testing of biomethanation processes from various sources, in particular biogas and synthesis gas. A facility where it will be possible to make gas mixtures on site and rely on the direct feeding of biogas from the digesters of the wastewater treatment plant.
https://www.fiorentini.com/en/news/renewable-energy-queens-conquer-germany-work-starts-on-straubing-pilot-plant/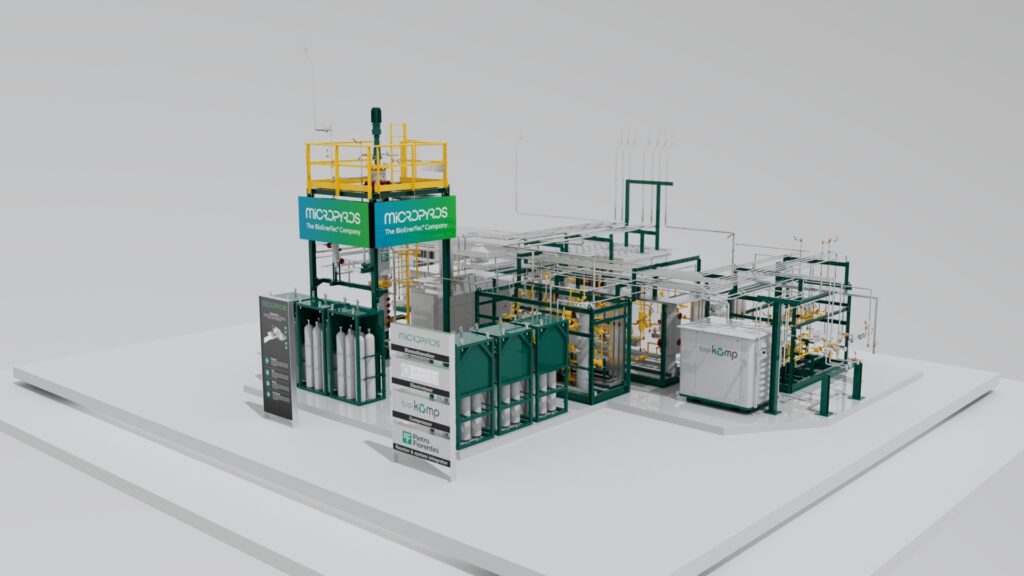 SynBioS (Bologna)
On Tuesday 6 September 2022, the Hera Group presented the innovative power-to-gas plant called SynBioS (Syngas Biological Storage), a plant able to convert renewable electricity and wastewater into green hydrogen and then into biomethane, at the Gastech exhibition in Milan.
The plant, designed and built by Pietro Fiorentini, MicroPyros and Hyter, will come into operation by 2023 in Corticella, in the province of Bologna, where the Hera Group's largest purification plant is located. Specifically, the plant will use wastewater and renewable electricity to produce green hydrogen and oxygen. The hydrogen will then be converted into biomethane by exploiting the carbon dioxide in the biogas produced by the digestion of sewage sludge. The biomethane thus obtained can be fed into the city's gas network without concentration limits.
https://www.fiorentini.com/en/news/synbios-power-to-gas-and-multi-business-expertise-to-meet-the-challenge-of-decarbonisation/
Focus
Power-to-gas
Managing 'green electrons' over time and space is important to obtain as much energy as possible when renewable sources such as the sun and the wind are available. Power-to-gas, a technology that transforms surplus electricity into gas molecules that can be transported over long distances at low cost and can offer the possibility to seasonally store renewable energy, is the answer.