The perfect ally for sustainable energy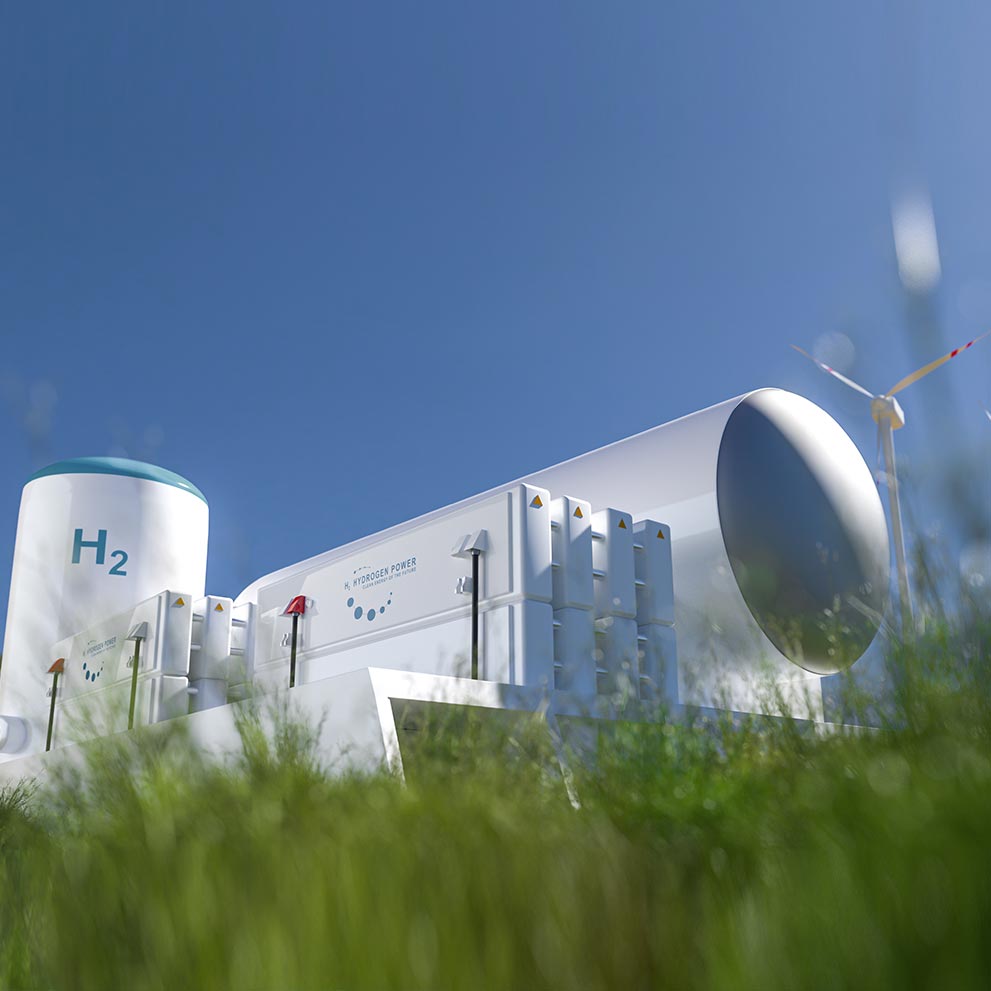 Hydrogen was the first element to form following the Big Bang and alone makes up almost 90% of the universe's mass, despite the fact that it is the lightest of all the elements.
Hydrogen has some fundamental characteristics that make it the perfect ally for facing the planet's energy challenge:
it is an energy vector that does not produce polluting emissions in its end uses (its combustion does not release CO2, but rather water in the form of steam);
it is easier to store and transport than electricity and natural gas pipelines can be used for this purpose.
Compared to natural gas, however, hydrogen has many different characteristics, particularly in how it interacts with materials. Thus, accurate studies and tests are required to fully understand the impacts and reliable and safe solutions for energy exploitation must be found.
Grey, blue and green hydrogen
The main limitation of hydrogen is the cost of its production. In fact, this element is found in abundant quantities in the universe, however on our planet we only find it bound to other elements, such as oxygen or carbon.
In fact, it is called an energy vector, and not a source, because we must use energy to separate and extract it.
Hydrogen has different names depending on how it is produced and the resulting environmental impact of the processes used to obtain it:
if it comes from fossil fuels with a high environmental impact, it is called grey hydrogen;
if it comes from fossil fuels with a low environmental impact (for example, obtained by using steam reforming techniques with CO2 capture and storage or electrolysis), it is called blue hydrogen;
if it comes from renewable sources with a low environmental impact (as in the case of electrolysers coupled with renewable energy and biogas, biomass and other organic waste), it is called green hydrogen.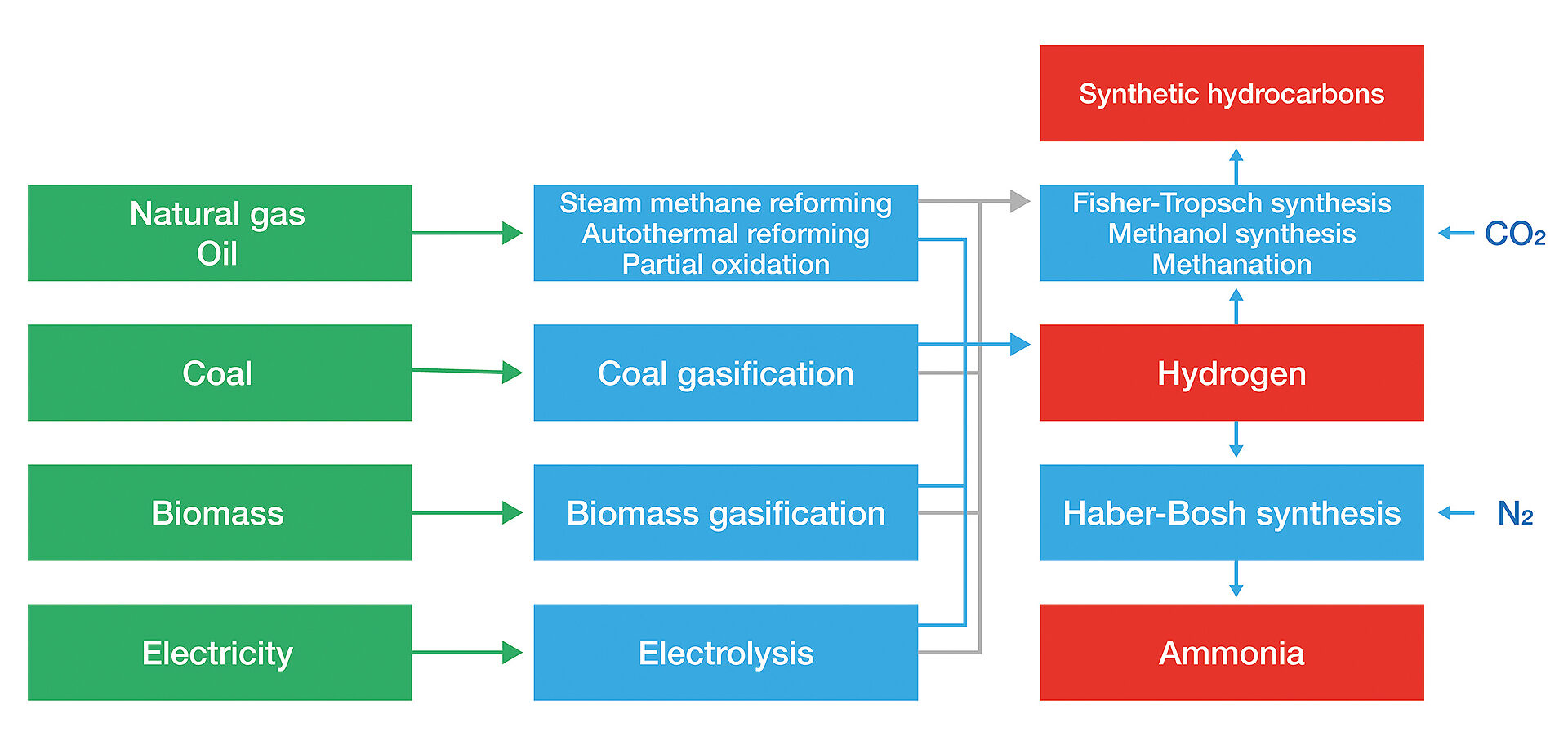 Summary of the different methods of hydrogen production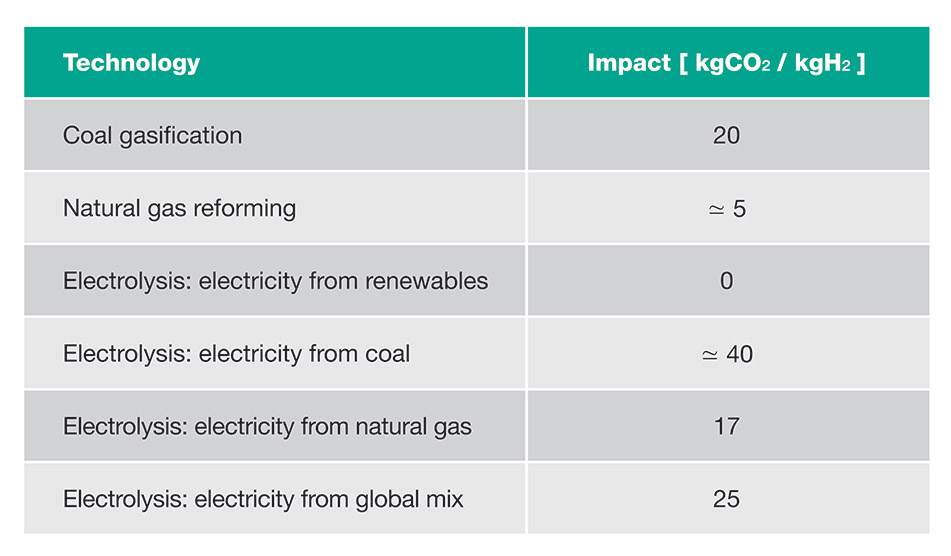 CO2 emissions based on the hydrogen production technology used
Some studies are now focusing on new ways to obtain it by exploiting the activity of red bacteria, cyanobacteria and microalgae, as well as the gasification of municipal solid waste and non-recyclable plastics, through the decomposition of organic matter with thermal treatments at high temperatures in a nearly oxygen-free atmosphere.
Pietro Fiorentini's contribution to the hydrogen chain
Hydrogen is an element that can currently only be injected into the pipeline network and mixed with natural gas up to certain percentages. Our commitment is to create systems and devices that increase this mixing percentage, a technological challenge that will open up incredible opportunities for the development of more sustainable energy.
Pietro Fiorentini began its hydrogen-journey in December 2018, by taking part in the Hy4Heat project conference in London. The United Kingdom has stated its goal to become fossil fuel independent by 2050 and achieve zero net greenhouse gas emissions. The Hy4Heat project aims to verify the safety and technical and economic feasibility of replacing methane gas with 100% hydrogen within domestic/industrial networks.
The plan is divided into ten Work Packages, which are assigned to companies through public tenders. Pietro Fiorentini has participated in the tenders and been assigned two Work Packages: one to develop a domestic meter  and one related to the development of auxiliary systems present upstream of the meter (pressure stabilisers, shut-off valves, and overflow valves). The two projects have allowed our Company to acquire expertise and confirm its presence in the emerging hydrogen market.
UK Hy4Heat programme: hydrogen smart meters and components for domestic use will be provided by Pietro Fiorentini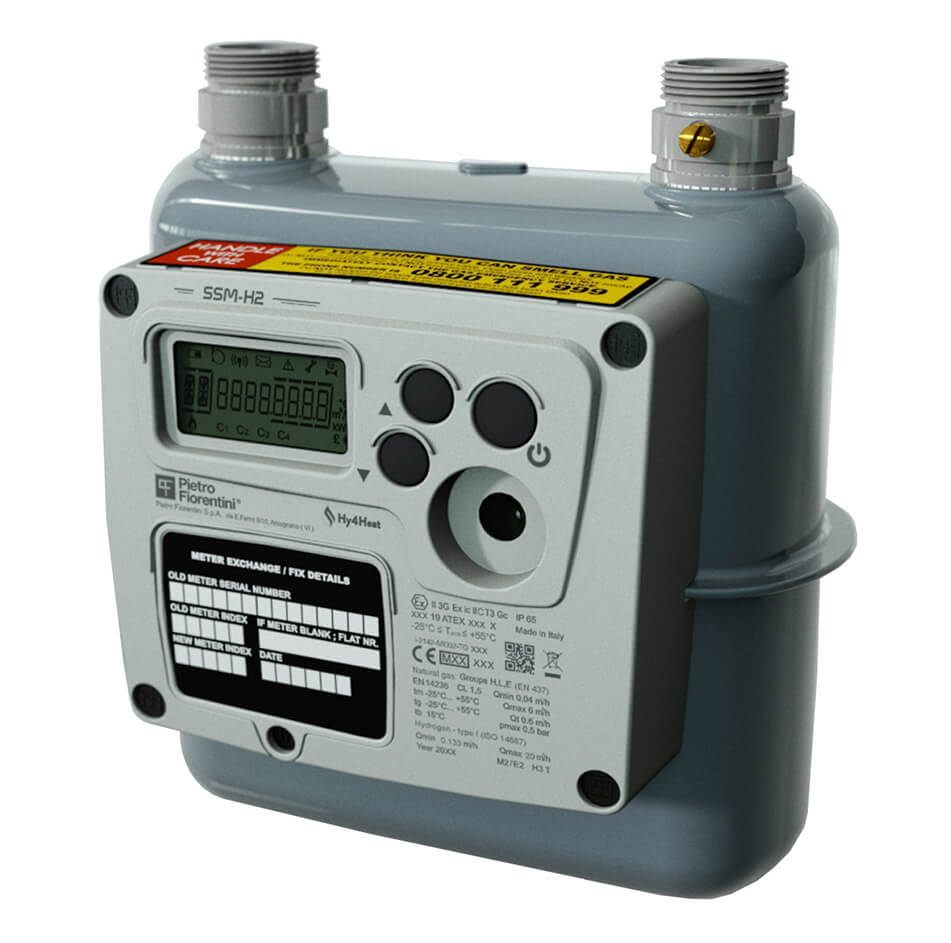 The prototype of the hydrogen smart meters by Pietro Fiorentini
In July 2020, Pietro Fiorentini was awarded a further tender in the UK, as part of the H21 project for the city of Leeds, to supply a pressure reduction station for a 100% hydrogen line used in the Spadeadam testing centre.
H21 Leeds City Gate Project.
In Italy, to respond scientifically to the requests of the market, Pietro Fiorentini has been working with the aim of certifying its products for use with increasing mixtures of H2. Thus important collaborations with PoliMi were established in order to study the compatibility of materials by combining the literature with tests conducted on materials both in the best specialised laboratories in Europe and in-house.
Pietro Fiorentini has been taking part in the main Italian working tables in the hydrogen field, such as H2IT, the Italian Hydrogen and Fuel Cell Association, Confindustria, CIG and CIB, which aim to promote the advancement of knowledge and the study of disciplines related to technologies and systems for the production and use of hydrogen, thereby opening up continuous dialogue with the stakeholders of the supply chain to support government agencies in defining policies that will enable the energy transition.
The development of a laboratory inside our headquarters in Arcugnano (Vicenza), completely dedicated to the study of hydrogen projects, will allow Pietro Fiorentini to accelerate the process of testing its products and new technologies, thereby creating a hub of excellence for Italy. The energy transition inevitably starts with the final consumer who must see an opportunity and not a threat in the new technologies: that is why the workshop also wants to be an educational and informational centre for the community.
Pietro Fiorentini is collaborating with the main testing centres in Europe to verify the readiness of its products, especially in regard to metering in the context of blending different gases will play a strategic role.
Hydrogen: the new energy frontier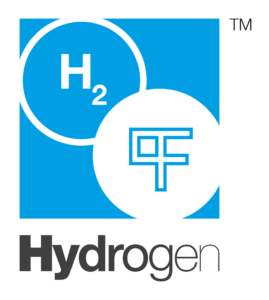 Contributing to sustainable growth by ensuring a clean energy supply for businesses and end users is central to Pietro Fiorentini's strategic objectives.
To attest to this commitment, our Company has signed the declaration of intent of the European Clean Hydrogen Alliance.
Hydrogen will play a key role in the decarbonisation process and Pietro Fiorentini is ready to take a leadership role with a H2 line of products and systems dedicated to the exploitation of this incredible and fundamental energy source.
Currently there are no products available for this specific application